Capital has been in business and located in Hoover since 1995. Since that time we have grown from one van and 20 customers to eighteen service vehicles and over 7,000 customers. We are a medium size company that is large enough to handle bigger projects but small enough to care. Ninety percent of our new business comes from referrals so customer satisfaction is extremely important to us. The majority of our employees have been with our company over 10 years and all have gone through background checks and drug screening. Our technicians are extremely qualified with experience ranging from 10 to 28 years. We primarily serve Jefferson and Shelby counties, offer same day service as well as emergency after hours service.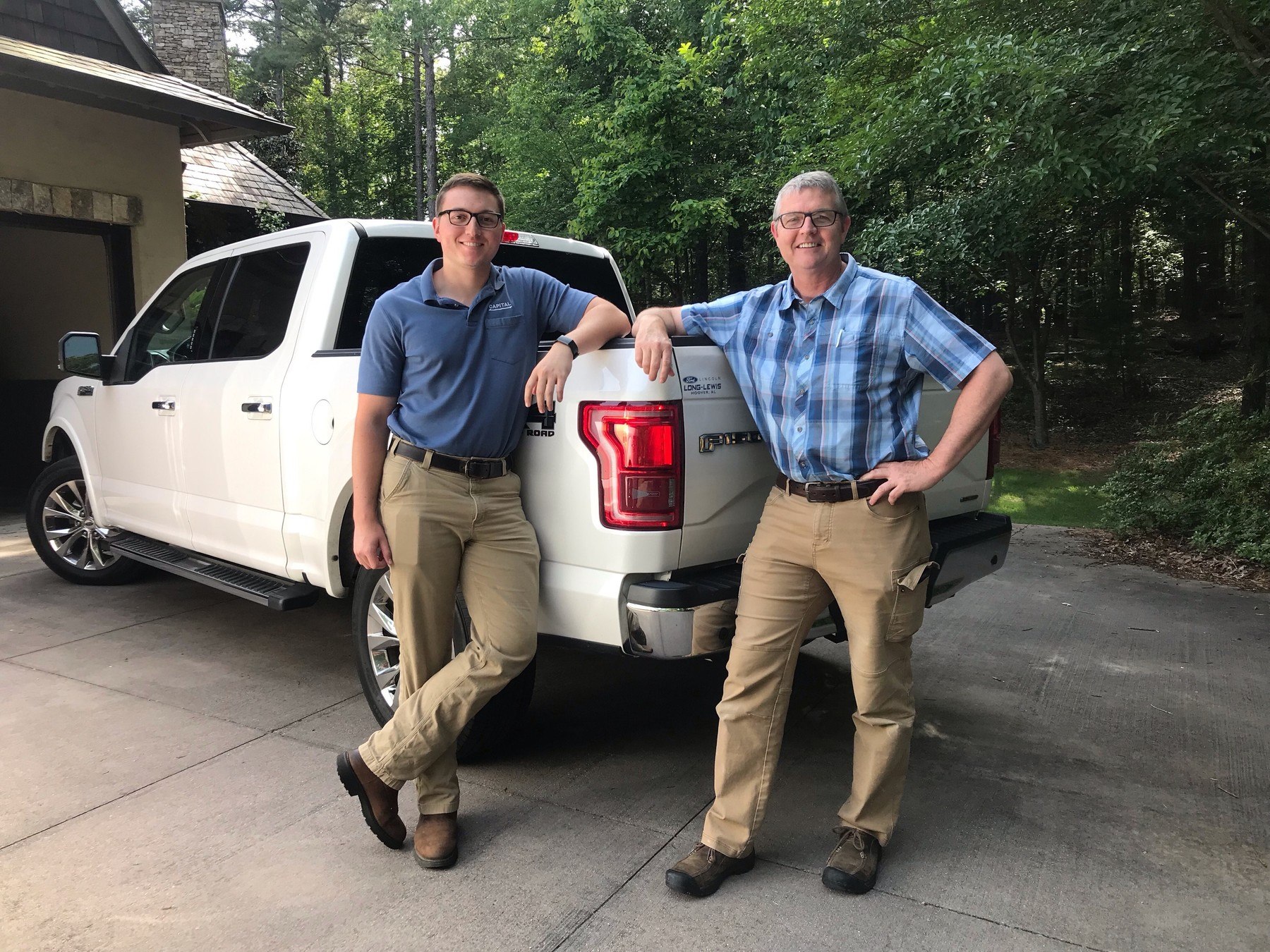 "Just wanted to send you a note of thanks and appreciation for Mike land's exceptional customer service efforts. On Saturday, May 11th, I observed a pool of water condensing around the base of our heating and cooling unit and pipes were freezing up. I contacted Capital heating and cooling about the problem and Mike Land called me back with several suggestions. At 10:30 pm, I noticed the water continued to pool around the base of our unit and out valves and pipes were still frozen even though I had followed through on several of the suggestions Mike had offered. I was growing concerned because the air conditioning unit was no longer cooling my home. The temperature was over 90 degrees on Saturday and it was projected to be just as hot on Sunday. Again, I called Capital heating and Cooling and Mike offered to come out to my house early the next morning. We agreed that he'd come out early the next morning since I could turn on the fans throughout the house to try and keep the air circulating. Mike came out early Sunday May 12th as promised. He repaired a valve and replaced the refrigerant in the air conditioning unit. Everything started working properly and the house cooled down again.
I was very grateful that Mike was so willing to come out to fix our air conditioning unit on Mother's Day. I have two very young children, and I was 8 ½ months pregnant at the time. I didn't think we could withstand the hot temperature in the house if we wanted until Monday and appreciated Mike's responsiveness.
I would highly recommend Capital Heating and Cooling to anyone and wouldn't hesitate to pass this story on to others looking for a recommendation."
– D. Baker


Birmingham, Ala.
"Dear Mr. Oswalt,
If ever you need a good reference, call on me!
Your crew, Bobby, Jason, and Chad, did an excellent job yesterday installing my heating and air condition system. From the very beginning, I had confidence in them. They were all well-groomed, neatly dressed, very polite, and arrived on the time we scheduled (7:30).
Everything they needed for the installation was on their trucks…no going back and forth to pick up supplies. I was impressed with the open tent they had outside to protect the equipment, their tools and themselves from the weather. They worked very quietly and steadily. I had to check on them every now and then to make sure they were still there and if they needed anything. Working together they respected each other.
Even your three clean, new-looking white trucks parked in front of my house made a statement. Everybody that drove by would slow down and look. They were good advertisements for your company.
After the installation was completed, Bobby gave me the "run-down" on the work that had been done and instructions for the thermostat. The boys did an excellent job cleaning up.
It is a good feeling to know that I will be warm this winter. This replacement was long overdue. I was holding my breath for my old unit to last through the winter but when the moto went bad, I knew it was time to change.
I do not know all our employees, but I do know Bobby, Jason, Chad and I also want to add, Bill Short. They are all very professional and knowledgeable.
Be sure to put me on contract for spring and fall check-ups. I can assure you, Mr. Oswalt, that I will highly recommend your company to all my friends, relatives, and neighbors."
"After having several very disappointing transactions with my home warranty company and the companies that they sent out, I called a friend who had previously done heating and AC work for me and asked who he would recommend and he said Capital Heating and Air.
I called on Christmas Eve and the owner offered to come out and look at my system if I was going to be without heat over the holidays and I told him that we would be fine until later. An appointment was made, their representative came out, an assessment was made and an estimate was given for replacing my main unit. The estimate was fair and an appointment was made for replacing the unit.
When the day came, the temperature was not supposed to get above freezing and I was concerned about getting heat before nightfall. I need not to have worried as three technicians came out and had the new system in service before three o'clock in the afternoon. After the positive experience that we had with having the main system replaced, we decided to have the upstairs unit replaced also by Capital.
They were prompt, clean, courteous, knowledgeable, and didn't mind being asked questions. Before they left, they went over the operation of the new systems and answered any questions that we had. Though we have only had the new systems for a couple of weeks, at this time I would not hesitate to recommend this company."
"Dear Mr. Oswalt,
Your Hoover, Alabama, based company of Capital Heating & Cooling is a quality and cost-effective provider of Trane products. From the initial meetings with you, to the completed Trane cooling and heating installation service, everything was handled in a professional and courteous manner.
I would like to commend the team of Mike, Tim and Jason assigned to install our new Trane XL 20i and XC80 furnace system with Aprilaire Media Filter, Global Plasma Solutions GPS 2400 air purifier and Comfortlink II Nexia Thermostat.
They performed like a dream team – consistently, thoroughly and efficiently. This highly skilled and customer focused team performed their task and cleaned up after themselves without any inconvenience to my family.
The new Trane central cooling and heating system works wonderfully. We cannot believe how quiet the fan is, how even the temperature is throughout the house and how our indoor air quality has improved drastically.
Please accept our sincere appreciation for the excellence of service from the Capital Heating & Cooling team."